Funding Providers
Thank – you for our supporters who have made !earshot Distro possible.
Factor is a private non-profit organization dedicated to providing assistance toward the growth and development of the Canadian music industry.
Creative BC is an independent society created and supported by the Province of BC to sustain and help grow BC's creative sector (motion picture; digital and interactive media; music and sound recording; and magazine and book publishing industries). The society delivers a wide range of programs and services to expand BC's creative economy. These include development funding and export marketing support for the creative industries; administration of the provincial government's tax credit programs for motion picture; and motion picture production services to attract inward investment, sustain and market BC as a destination for domestic and international production. The society acts as an industry catalyst and ambassador to help BC's creative sector reach its economic and creative potential both at home and globally.
Programs & Services
Location and Contact
7 West 6th Avenue, Vancouver, BC, V5Y 1K2
Hours: 9am – 5pm, Monday – Friday
Main Office: 1-604-736-7997
Email: brand@creativebc.com and info@creativebc.com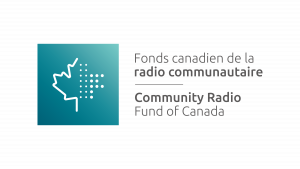 This initiative is made possible by the Community Radio Fund of Canada, the only organization mandated to financially support campus and community radio stations in Canada.

Founded in 1992, the SOCAN Foundation is dedicated to fostering musical creativity and promoting a better understanding of the role of music creators in today's society. The organization is a part of the SOCAN Group of organizations and guided by a Board of Directors. The Board, which consists of composers, songwriters and music publishers, reflects concert music and popular music genres, as well as the geographic and linguistic regions of Canada.
Developer

N-VisionIT Interactive offers enterprise-level software solutions with tangible business results. They have provided the necessary development of the earshot distro! software every step of the way.
Partners
!Earshot Charts are the official NCRA/ANREC and Campus/Community Charting system for the sector.