The following outlines the best practices, as recommended by the membership and approved by the sector in the distribution of music to not only campus/community radio stations but also CBC and commercial opportunities. Though the way musicians distribute music has changed in many ways, radio still proves that sharing your music locally and nationally is a great way to organically grow. Note this is a living document/website and may not be applicable to all stations/situations.
The reasioning and full report behind our music industry consutlations is available to read here.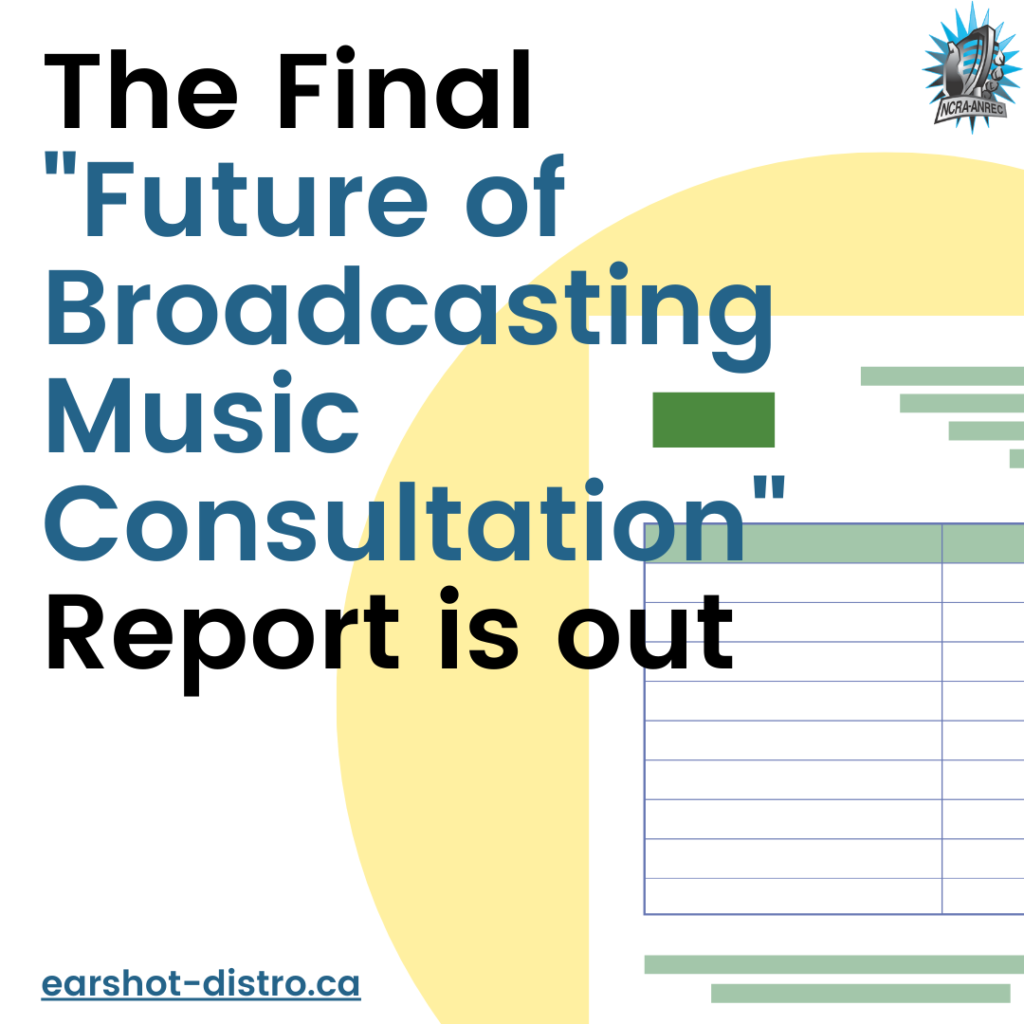 Labelling:
"Music submission" on the subject line
Songs should be labelled as # (if from an album) Artist Name – Song Name (Remix -if applicable) [Record label -optional) . EG.  1 – Buffy Sainte-Marie – Power in the Blood [True North Records]
Have all songs/album data properly labelled and include all relevant information and metadata
Noting any explicit language for tracks and providing radio-friendly versions.
All mp3 should have full metadata
Please include "Local Artist" and or main genre in your message subject, if applicable.
Formats:
MP3 format is preferred for most (320kbps or higher), however you should also include lossless wav or aiff
All artwork should be at minimum 1000*1000px
Send albums in a zip format
If submitting by a separate download link (those accepted are):

PlayMPE/Yangaroo,
Dropbox/Google Drive/OneDrive direct download link

Can also email with a link to !earshot Distro
(Note that content sent over Soundcloud, Bandcamp, etc. is NOT broadcast friendly as it does not include the proper rights, and cannot be played on air.)
Do NOTS:
Discourage submissions through Soundcloud
No Spotify link
"archive.zip"
Do not send one song and ask to request the rest of the music; send the whole release.
Do not attach songs individually to emails (when it is an album).
Extra things to include:
"Sounds Like"
Can-Con (yes or no)
Label if applicable
Artists bio/photos
High-resolution artwork
Tracklist
Date of release, date of availability for radio stations to play
Links to social media, websites, etc.
Tour information
Information/Timeline of the release
Recommendations:
Make a bundle/EP with all your singles. Not only will it be more likely to get the attention from radio stations, but it is also easier for them to actually listen to a body of music instead of a bunch of individual singles.
Albums are most likely to Chart and make it into the air.
To qualify as an album, your release must contain at least seven or more tracks, At !earshot Distro it is the same price to upload an album UP TO 20 songs. Don't aim to just hit the minimum, take advantage and upload as many as you want in one go (you could combine EP's and Albums!).
If you upload your music to !earshot, it is worth selecting the "Available to use for Podcasts" since you will be able to reach other audiences.
Additional Locations
Contacts at Stations – Users of !earshot Distro can access a list of radio stations and contacts when logged in under the "outreach" tab.
Other channels to submit for both commercial and public radio (at a cost)
Charts
For campus/community radio, our national charting system is located at www.earshot-online.com. Around 20 stations submit weekly charts to the site, which creates a national top 50. These charts are important because they not only represent the collective listener data for that week but also are used by FACTOR as a gauge of success.
As such, getting charted (typically being played on more than 5 stations/week), gives you an opportunity to increase your FACTOR rating, opening up new opportunities for grant and support.
There is a list of stations that report to earshot-online on the website. Each station, like the rest of the sector, receives submissions through a variety of formats and, as this report outlines, there is no single submission focus.